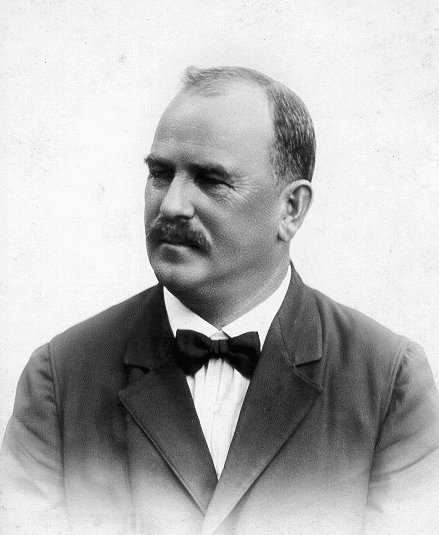 Horatio Stephen Weston was the third child born to Henry Weston and Lois Angela Mead of Logtown, Hancock County, Mississippi.  He married Elizabeth A. Wall of New Orleans, Louisiana in 23 Apr 1889 in Logtown, Hancock County, Mississippi
He attended the public school system in Logtown and the Mississippi Military Academy of Pass Christian, Hancock County, Mississippi.  Starting at the age of 16 years old he began working for his father at the H. Weston Lumber Company where he learned all phases of the lumber business under his father's guidance.  After the death of his father in 1912 Horatio took over as president the company, a post he held until suffering a stroke in 1929.  During his life he became a well known business man and leader in Mississippi.  One of his accomplishments was being known as the Father of the Mississippi State Development Board, which was created in 1921 to further the general interests of the State of Mississippi by making a survey of its natural resources and encouraging their development.  From 1921-25 he served as the first president. Among his many accomplishments was the creation of Hancock County Bank at Bay St. Louis, Mississippi, where he served as President.  He was a Vice president and a director of the First National Bank of Gulfport and was president elect, but health prevented him accepting this post. He was a trustee for Gulf Park College, a director of the Louisiana-Mexican Lumber Company, the Union Lumber Company, the Mississippi Power Company, and the Alabama Power Company.  For thirty years he was a member of the Hancock County Board of Supervisors, serving as its President most of that time.  During his presidency of the Board of Supervisors, the seawall of Hancock County and the Beach Boulevard were built and dedicated in 1929.  He also took and active interest in promoting the Old Spanish Trail short line road from the Gulf Coast to New Orleans.  Through his efforts the Bay St. Louis Bridge was built in 1928.  He declined to have the bridge named after him.  His efforts and investments insured the success of the first locally owned insurance company in Mississippi, the Lamar Mutual Life Insurance Company.
During World War I he served the government as a Dollar a Year employee devoting his time and energies unceasingly to Government work.  He was chairman of the Red Cross for Hancock County, and member of the Food Conservation Committee.
The Lamar Mutual Life Insurance Company was officially formed on 24 February 1906 in the Century Theater in Jackson, Mississippi.  Horatio Stephen Weston bought 10 shares at $100 each, which was 1% of the shares of the company, in 1906.  By the time of his death he and his family would own 32% of the company.  At the second stockholders meeting on 21 January 1907 three future presidents, Jesse Bounds, Christian Webb Welty and Horatio Stephen Weston, were elected as directors.  This started his transition from the lumber business to the insurance business.  It was becoming obvious that the trees of southern Mississippi would not last forever.  While Horatio was to become very active in the Lamar Mutual Life Insurance Company, he would remain in Logtown, Mississippi House of Horatio and Elizabeth Weston where he ran the H. Weston Lumber Company.  On 25 September 1920, he was elected the third President of Lamar Life Insurance, a position that he would hold until 1931.  A stroke at the Company's office on 19 September 1929 brought his career to an end.  After a long illness it became obvious that he would never be able to return to work.  As a gesture of respect and recognition he was elected as the first Chairman of the Board on 27 January 1931 with a salary of $4500 per year.  At Horatio's suggestion, Christian Webb Welty was appointed president with a salary of $15000 per year.  On 8 September 1931 Horatio Stephen Weston died of paralysis hemorrhage in Jackson, Mississippi and was buried in the Lakewood Memorial Park in Jackson, Hinds County, Mississippi.  His son-in-law Doctor Roderick Seal Russ was appointed to serve out his term.  For years to come Horatio Weston's influence would be felt through the people he place in the Lamar Life Insurance Company.
From the History of Lamar Life Insurance Company
As the Company enters the Roaring Twenties, knowledge of the placement and relationships of its key people is necessary for an understanding of the period.  Christian W. Welty was President for only a short eight-month period in 1931, but he was really Lamar Life Man of the First Quarter-Century.  H.S. Weston was President from 1920-31, but he was more vital to the existence of the Company than that tenure of service would indicate.  They worked together as a team and they shared a philosophy that placed the Company above the individual.  The wisdom of the philosophy would be exemplified when both of them died in September, 1931, creating major leadership vacancies in the Company.
From the Jackson Daily News on 24 September 1931
Horatio Stephen Weston was known as Mr. Outside and Christian Webb Welty was Mr. Inside.   While Welty ran the company, Horatio was the financial anchor.  They shared an office when Horatio occasionally would come to Jackson from Logtown.  Horatio maintained an active interest in the company and was influential in the selection of its personnel.  Peter K. Lutken, Sr. was a hometown protg;  Dr. J.O. Segura was Mr. Weston's son-in-law.  By continuing to purchase the stock, Mr. Weston gave Lamar Life staying power and sheltered it from takeover by outside interests.  His strong financial hand and good business judgment played a vital role in nurturing the company in its first quarter of a century.
The team of Weston and Welty was the primary driving force that brought the Lamar Life Insurance Company through its infancy into a fully integrated insurance company.  Through their endeavors a locally owned company matured when many said that Mississippians were not competent to run an insurance company.  They did much to prove them wrong.  They personally chose and developed the management talent that would last for the next three decades.  Notable among these men were J.O. Segura, P.K. Lutken, Sr., Alfred E. Babbit, FSA and W. Dudley Owens.  They constructed the Lamar Life Insurance Company Building in Jackson, Mississippi in 1924.  The "First Skyscraper" in Jackson, Mississippi still stands and is occupied by the Lamar Life Insurance Company.  The A.M. Best Company's highest rating was achieved and Lamar Life became a respected name with the life insurance industry. WJDX was established as Mississippi's first network radio station in 1929.  Few radio stations existed at that time.  On 7 December 1929 from atop the Lamar Life Tower Christian Webb Welty gave the welcoming address to the new listeners.  Horatio Stephen Weston was scheduled to give the welcoming, but was unable to attend because of his recent stroke. Christian Webb Welty's daughter Edoura Welty became a well known writter.